What is enough for you? This leads from the question 'why are you in business?' This week I had a client who greeted me with the comment: "Every year when I drive over with my books, I tell myself I really ought to put my prices up".
She provides her services mainly to the elderly in care homes with limited incomes. Her children have both left home and the second one is now going through university. Her main reason for working was to pay for their education, but she also enjoys her work. Do you think she should put her prices up?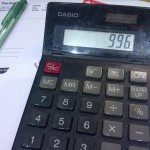 Pricing is not all about making the greatest profit you can, it is about understanding the figures so you can decide what is appropriate. Do you want to price yourself out of the market, or just appeal to a small niche? Someone I worked with a couple of weeks ago had just taken an order for a dining table at £35,000. That is not a typo. I can confirm that I will not be placing a similar order.
In order to ensure you make a profit, you do need to understand what costs are involved, both in the delivery of that particular sales and in the running of the business. If you don't have precise figures available, just jot down what your overheads are in a year divide, by twelve and realise how much you need to make in a month before you even consider the costs involved in a sale. This is why you cannot afford to work for free. By all means give a sample or taster away, but make sure your customer knows this is not the norm.
If you feel that you need to talk through your pricing structure please get in touch