You may see advertising regarding submission of your tax return by 31st October. This only applies if you (or your accountant) are doing it on paper. If you submit via HMRC web site you have until 31st January 2013 but I wouldn't recommend you leave it that long.
I am a great believer in keeping on top of the figures. One figure is how much tax you owe. If you know in advance you can make sure you plan to have sufficient funds available so the earlier you can complete your return, the more time you have to plan.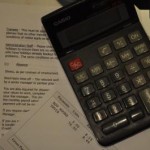 If you don't currently need to submit a self assessment return, you can choose to optionally submit one. The benefit is that you declare each year what income you have and any claims such as pension contributions that can reduce your tax bill and you then pay the correct tax each year. Last week I had one client who had been sent a tax return this year for two years ago and ended up with a tax bill of £3,500. He had changed employments during the year and the tax codes had not been updated. With company cars, medical insurance and other factors affecting your tax bill. This could happen to you.
Earlier this year I acted for a client who had been self employed for many years and submitted his own tax return. When we reviewed what he had done/hadn't done the tax bill should have been more. We were able to declare his errors before penalties were applied, and he was given time to pay. Claiming your loan repayments for your holiday home as an expense against business profits is not correct. If you are not sure about something, find someone to ask. Although HM Revenue and Customs offer advice, you need to ask the right question to get the right answer – and then they have been known to change their mind. You never know, it may be a repayment you can claim before Christmas rather than a tax bill to pay in January.
Would you like a no-obligation chat about your tax obligations and returns ? Contact me and lets simplify your tax affairs