The one thing we can be sure of is change. What was drought earlier in the year, is now replaced by floods. Although these are extremes, they are not entirely unexpected. From a business perspective, the question is how much will they impact on your business?
Some years ago, I had a client near Gloucester lose his earlier year records when his garage was flooded. As he could not then prove payments made in cash to HMRC, he had to pay up £2,500 again. He did once have the payments book but he had binned it with the other soggy papers.
That was costly, but what have you in place if your computers gets water damaged? How quickly can you get replacements with the right programmes? How quickly can you restore your data up to the previous working day? How many sales and customers could you lose if this happened? It doesn't have to be just floods that cause wet computers!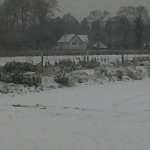 If you don't currently have off site copies of your data, I would urge you to do so. If you are a small business, it may simply be a manager taking an external hard drive home every week. Better than this is web hosting. Even better is automatic backups so it is not reliant on someone remembering to do it – even when they are on holiday.
We haven't yet had much snow, but put plans in place now so your business doesn't take a dip as staff can't get to work, customers don't know if you are open or not and delivery times are extended/suspended due to the weather and the holiday period. Have a good one.
Happy to speak to you about how I might help