They say the two certainties in life are death and taxes. The big difference is that you know when taxes are due, the same thing can't usually be said about death.
I have today been to a client who has, for as long as I have known her, religiously put money away each month so that when her VAT bill or tax bill arrives, the money is always there to pay it. When she changed her trading status from sole trader to limited company we sat down and did the figures to make sure she knew approximately how much she would need to have saved and by when. What she now does is put a larger amount aside every month and then pays a dividend to cover her holidays and Christmas. She also pays a monthly salary and has this, and its PAYE, set up on standing order.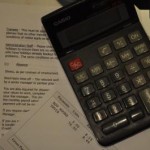 Although she would rather not pay tax, she knows the more she pays, the better she is doing. By reviewing her transfers to the company's second account regularly, she just sighs with a smile when I tell her how much VAT to pay or what her corporation tax bill is. This is different from the reaction of some of my other clients who know when the tax is due, but always think it will be nil. At least that is one excuse as to why they haven't put money aside.
If you are not sure how much to put aside, speak to your accountant and they should be able to help. Remember it is always better to put too much away and have a nice surprise rather than a nasty shock.
Could your business benefit from this proactive planning ? Contact me and I will be happy to help.