If you are taking them out for Christmas dinner, you can claim up to £150 including VAT without having to declare it as a benefit. However, if you wanted to give them cash, or something they could exchange for cash, you would need to put it through the payroll and pay tax and NI on the amount.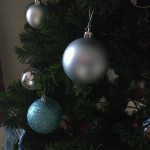 So, if it a Christmas bonus they get, I am sure they will appreciate it especially if you pay the tax and NI due. If you simply want to but them a small gift, that is fine – especially if it is a turkey. That is definitely tax allowable.
If you send your employees and clients Christmas cards, this is another allowable expense – so is the work's Christmas tree. If you find some of the shopping is combined with personal shopping, this is not a problem. Ask the shop to prepare a receipt for your business. If this is too much hassle and you have a till receipt for combined personal and business items, just circle and claim for the business costs and keep the receipt. The business then owes you the money by way of an expense claim or payment out of the business funds. This type of split shopping trip is not just true at Christmas. If you buy you office milk and paper from Tescos with the week's shopping, keep the receipt and mark what is business and make sure you claim.
If you are a very small limited company, i.e. just you with help from the family, don't forget you are an employee and entitled to your Christmas lunch. Have a good one.