I have just finished completing my mileage claim for last month. If you drive for work, how do you keep your mileage log up to date – and remember to put the claim in?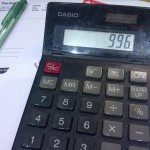 Whether you are employed as a director of your own company, employed by someone else, or are a sole trader or partner who claims mileage, you need to keep a log of miles you do for work. I recently saw a client who was paid 40p by his employer. He was good at keeping a log but did not realise that, if he did under 10,000 claimable miles a year, he could claim the difference between 40p and HMRC approved rate of 45p. By claiming 5p times 9,000 miles he could claim an expense of £450. As a higher rate tax payer, when you multiply this by 40% it works out to £180 of tax he could get back. If he was reimbursed at 25p, the refund would have been £720 of tax – a nice payout.
The other thing to check is that your car insurance covers the business miles you do. A simple check and often there is no extra charge to have business listed on the certificate.
So, whether you run your own business, or are employed, it is worth noting the mileage and other expenses you pay out on and 'forget' to log at the moment. The important point to remember is the more legitimate expenses you claim, the smaller your tax bill and the more money you will have.
May 2013 bring you every success, happiness and money.