There are 3 good reasons why you should put in an expense claim:
1. You have paid out money on behalf of the firm so they owe it to you
2. The firm needs to know what it has paid out/costs it has incurred otherwise it is working with an incomplete picture
3. If expenses are to be recharged to the customers. They should be included before the customer forgets they agreed to pay for them.
Whether you work for someone else, or yourself the same three rules still apply. The sooner you put the expenses in, the sooner you can be paid and the firm knows it has a liability.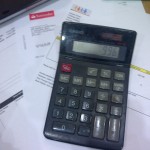 You might trade as a sole trader and the concept of expenses seem strange. The same rules apply. If you pay parking of, on average, £2 per day and record it for 45 weeks of the year that amounts to £450 worth of costs. So, if you pay 20% tax and 9% NIC that is £130.50 extra you would need to pay in taxes if you didn't make the claim.
For many small expenses such as parking, you cannot always get a receipt. HMRC understand this providing you are making notes and claims as you go rather than inventing a lump at the end of the year. It may be that your bank statements show when you had to park to go to the bank. As well as the parking, don't forget to claim the mileage unless the business owns the car and pays for your petrol.
Other amounts often overlooked are postage, paper (when bought from Tesco's with the week's shopping), car washes and charity donations. All are allowable and some do have receipts, others don't. If some of the items on the receipt are business and some not, then include the receipt and just mark which you are claiming for – at least you have proof that the money was spent.
The important thing is to do it while you still remember – Happy to chat things through with you if I can be of help