If you have a car, you pay for the insurance and tax each year, because you have to. If you have a limited company you prepare accounts each year and submit them to Companies House and HM Revenue and Customs because you have to. Even if you are not involved with a limited company, you still need to send your accounts to HMRC.
That's the compliance bit out of the way. Now to the practical side. When did you last fill the car with fuel? When did you last check the oil and top up the washer bottle? You may well get someone else to do the service and, if it needs it the MOT, but you will do or delegate the lesser activities, and you know you must make sure that the major ones get done.
So, why am I comparing your car, to your accounts? You expect your car to be there as a tool of your trade. To get you to appointments, to carry your equipment and to get you to the bank, Post Office and other locations you need to reach as part of your business. As a result, you make sure you have the fuel and that it is in full working order. Your accounts are the same. If you do not take care of them and check them regularly you may find yourself with a problem.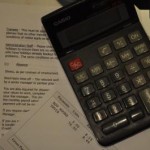 When did you last check who owed you money – and then chased them. As long as the money is in their bank account and not in yours, the more it will cost you. Particularly if you work with an overdraft, you are paying interest because your customer chooses not to pay you. If you are an organisation that have staff that do the chasing for you, do you know how much time they are having to spend, and on whom. What could you do to help?
Accounts receivables (amounts your customers/clients owe you) is just one area to check. Have your suppliers put their prices up and you are not aware of it? Are your staff working more hours but actually getting less done?
Your accounts are a tool, if you learn how to use them fully, your life with be easier and safer and your business will grow.
I love helping business use their accounts to the full – contact me for a chat